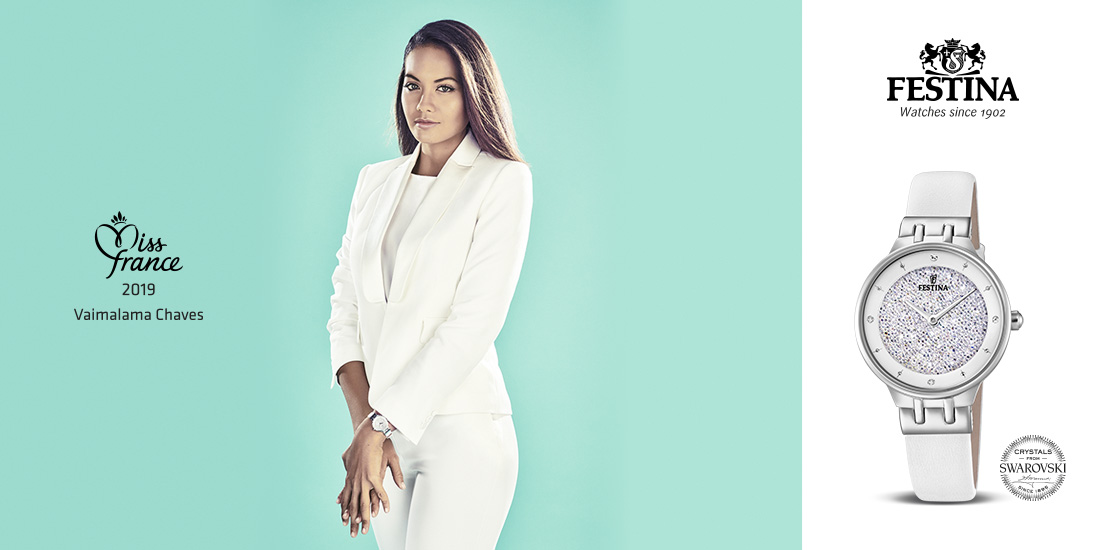 22 Mar

Festina & Miss France 2019

On December 17, 2018 in Lille, Miss Vaimalama CHAVES was crowned Miss France 2019, succeeding the predecessor Miss Maeva COUCKE. Along with this honour, comes the role of international muse for the Festina watch brand in 2019 and Vaimalama will of course represent the feminine line of Festina with her obvious charm, glamour and elegance.
Star of the new advertising campaign, Vaimalama posed in front of the lens of the world-famous photographer, Marcel Hartmann.

Swarovski®, the Austrian company founded in 1895, is currently world leader in the cut crystal jewelry and accessories sector and shares with Festina, the watchmaking group, the same passion for innovation and design. As an example of natural innovation, the two companies came together in 2017 to develop the Festina Mademoiselle ladies watch collection. The know-how of the Austrian brand has been used to develop original dials with a particular brilliance and sparkle. Since then, this partnership has continued to grow stronger and once again this year, the Festina Mademoiselle collection is enriched with sublime dial designs, adorned with incomparable crystals.