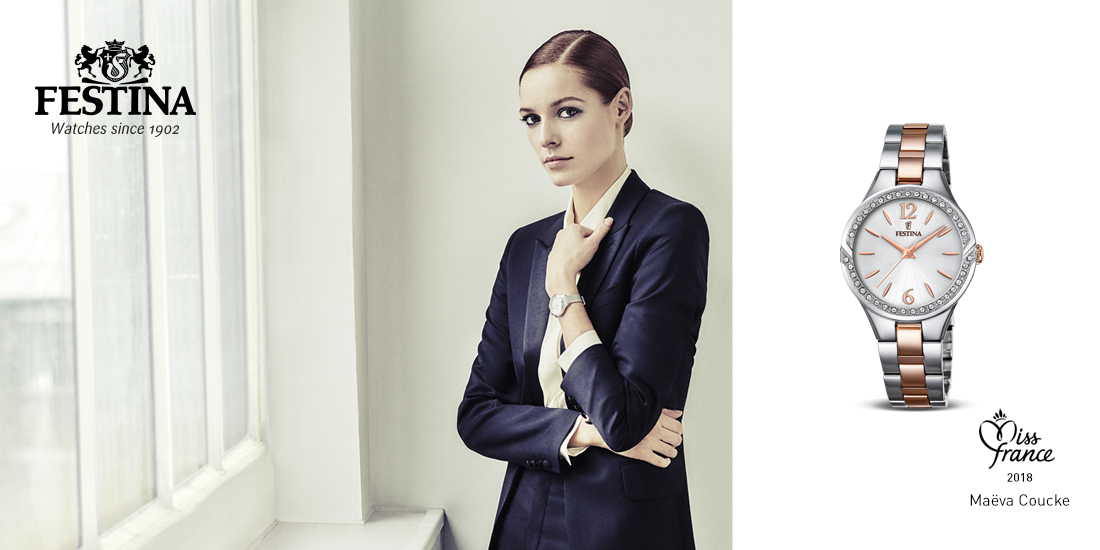 25 Jan

MAËVA COUKE, MISS FRANCE 2018, STARS IN FESTINA'S NEWEST CAMPAIGN

On December 16th, in a ceremony held in Châteauroux, Maëva Coucke was crowned Miss France 2018 succeeding Alicia Aylies.
Maëva has therefore also become the international ambassador of the Festina brand. She will represent with charm, glamour and elegance the new Mademoiselle Collection.
For this new campaign, Maëva Cocke posed in front of the lens of renowned photographer Marcel Hartman.

A few years ago Festina made a firm commitment to women to develop its line of accessories. The result can be seen in the iconic Mademoiselle Collection. For those ladies who look for feminine functionality in a watch, this line offers a wide variety of perfectly styled models for every day wear. These timeless watches are made of 316L stainless steel, trimmed with yellow or rose gold IP finishing with crystals on the bezel and mineral glass and indeed add glamour to an already stylish collection.

Besides, Festina recently launched a new series embellished with Swarovski® crystals which is a true declaration of style which sparkles its way into everyone's view. This glamorous and refined line of watches come with a stainless steel case fitted with delicately toned Swarovski® crystals and are available on a mesh or leather bracelets.