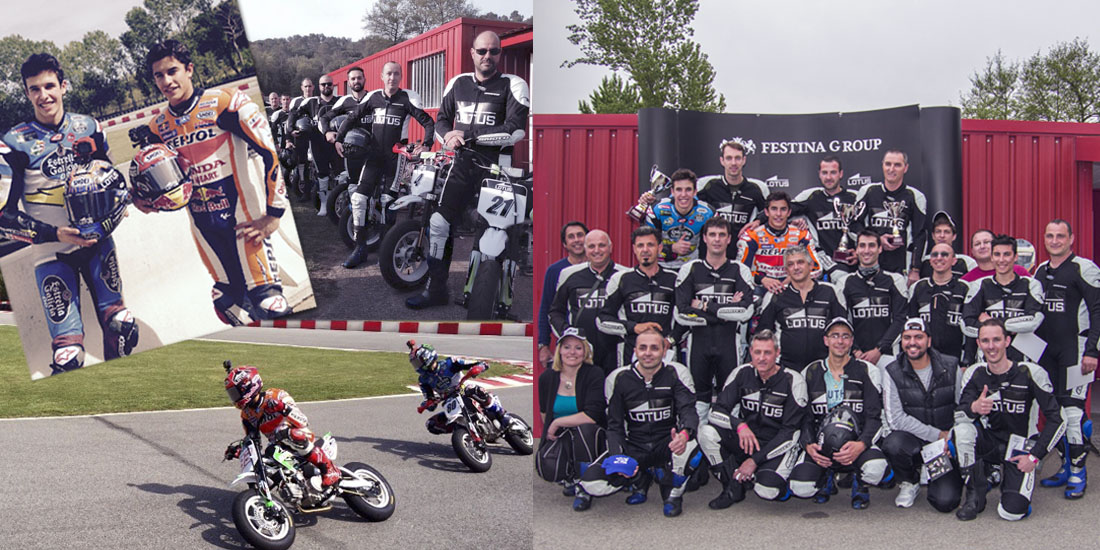 28 Apr

THE PURE ADRENALINE OF THE FIRST 'LOTUS – MARC MARQUEZ GRAN PRIX'!

Lotus celebrated last Friday the 'First Lotus – Marc Marquez Gran Prix', where 40 winners of the Defy the Champion contest were selected to challenge the unstoppable Marc Marquez to a race. To enter the competition it was enough to buy one of the Lotus Marc Márquez Collection watches. The 20 Spanish, 10 French and 10 Italian selected winners were then given a once in a lifetime experience.

The 750-metre circuit Karting Cardedeu with more than 3 hectares of pure asphalt was the perfect place to organize the race. Divided into two groups the Spanish riders went first and demonstrated their skills on 2 wheels competing with the MotoGP 2013 and 2014 World Champion. The first riders qualified were Balbino Ruiz, José Enrique Lara y David Iglesias. In the second round with the French and Italian competitors, the winners were Mathieu Pizzinato, Thomas Escher y Christophe Suchet.

Alex Marquez also joined the event and took the chance to race against his brother and the other competitors during the second round. The Marc and Alex Marquez brothers made the event truly memorable causing a rush of adrenaline during the event.

Once again, Lotus demonstrated its passion for motorsports, especially motorbikes, giving 40 followers of the watch brand a unique experience with one of their idols. A once in a lifetime experience, to be remembered forever.

Congratulations to the winners and thanks to all who made it possible!